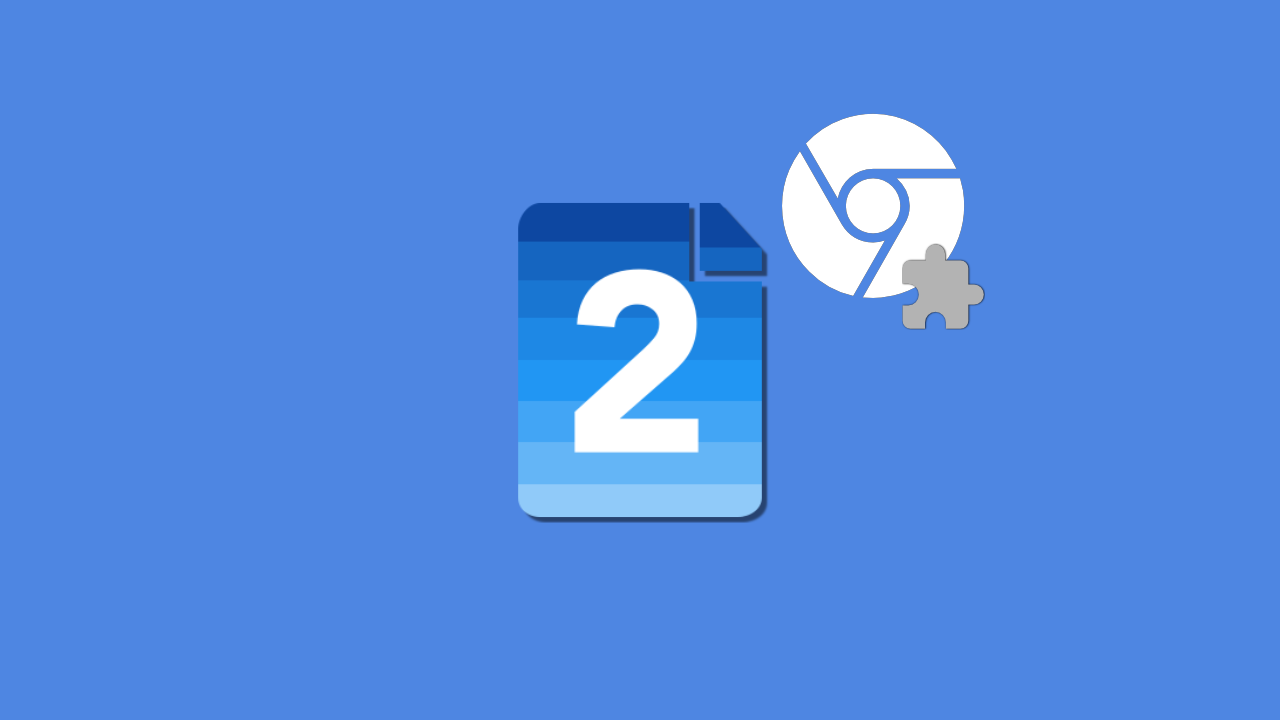 Efficient and versatile image editing tools are essential for anyone working with visual content. If you are looking for a powerful solution to enhance your image editing capabilities directly within your Chrome browser, the Img2Go Chrome Extension is a must-have.
This handy extension provides a range of features that allow you to compress images, convert file formats, resize pictures, and perform various editing tasks with ease.
In this article, we will guide you through the process of using the Img2Go Chrome Extension effectively, helping you unlock its full potential.
Add Img2Go Extension to Chrome
After you have opened the Chrome Web Store and found the Img2Go extension, click Add to Chrome. To use the extension, click the icon to the right of the address bar.

The image converter extension contains the following tools:
Compress image
Convert to JPG
Convert to PNG
Resize image
Edit photo
Crop image
Rotate image
How to Use Img2Go Chrome Extension
1 Simply, click on the extension in the address bar, and you will see all the available tools in a drop-down menu!
2 Upload the file (drop the file into the box or choose the file) you want to convert and select one of the offered conversion options.
For example, if you want to convert your PDF to JPG, drag & drop the file or, under "Convert", choose "Convert to JPG."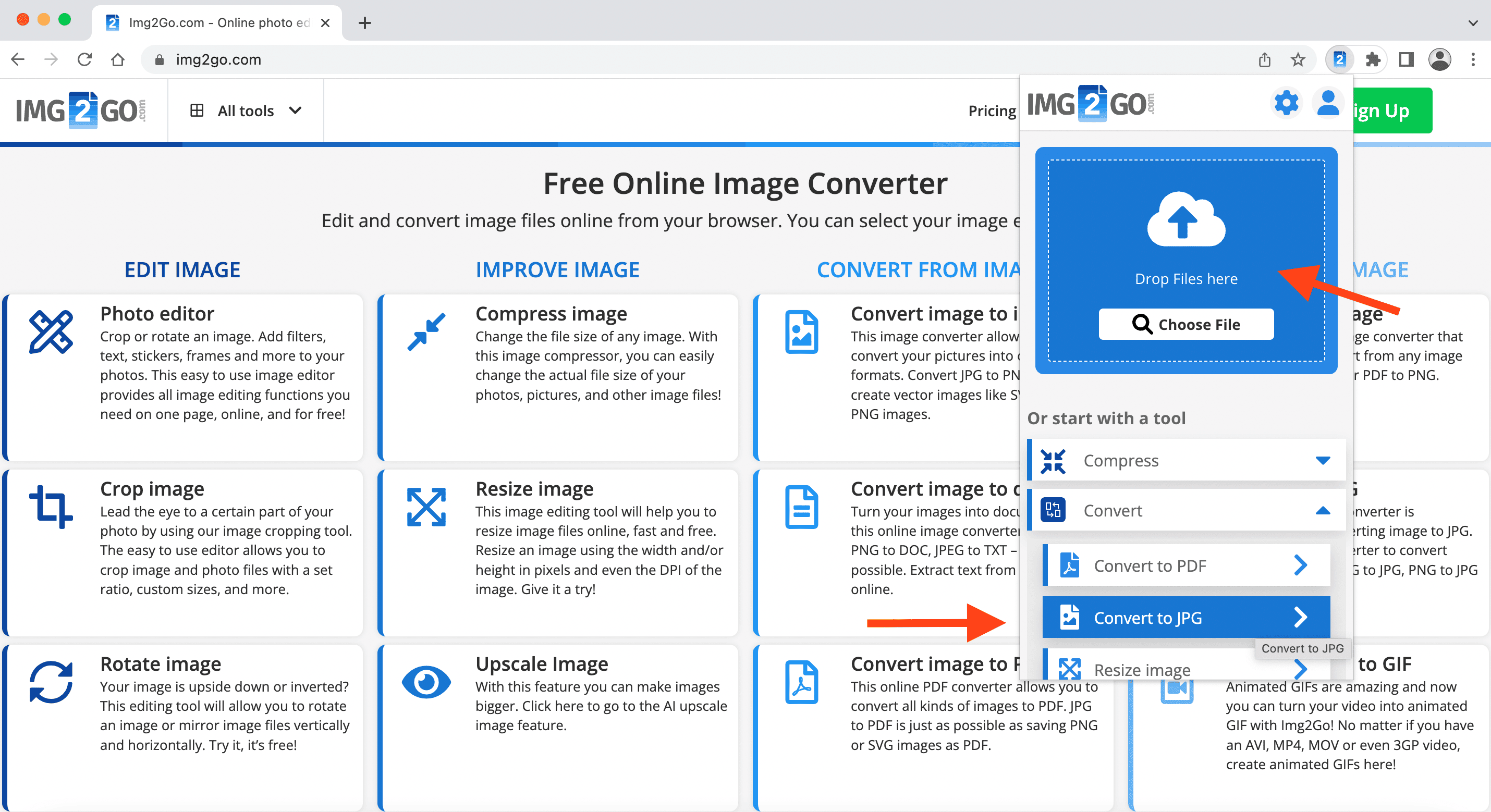 3 After a few moments, your file will be ready to download.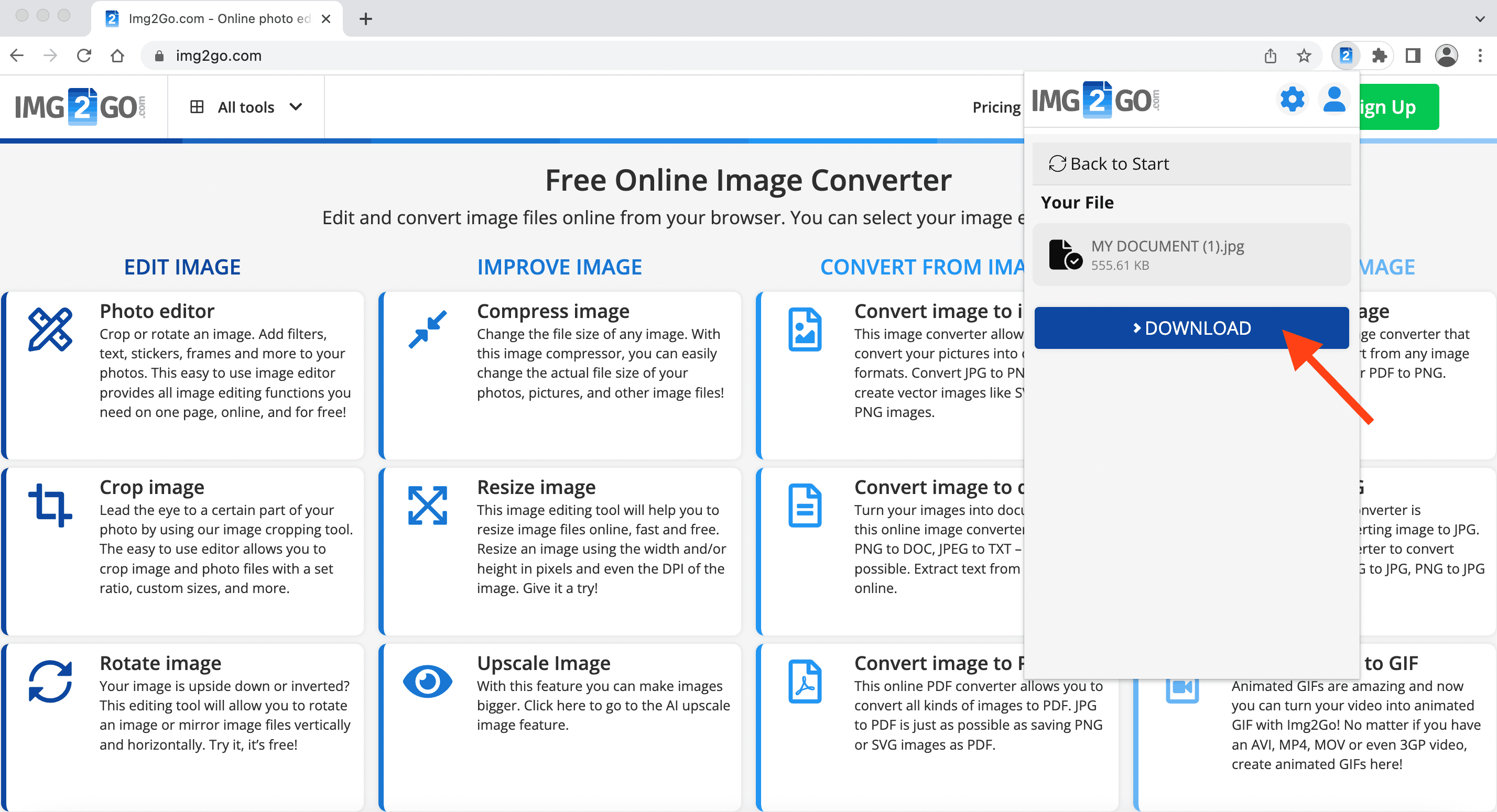 How to use the IMG2Go Chrome Extension in Gmail
IMG2Go is also integrated into Gmail. How to use an extension?
1. First, create a new message and use the Img2Go Icon at the bottom to attach a file.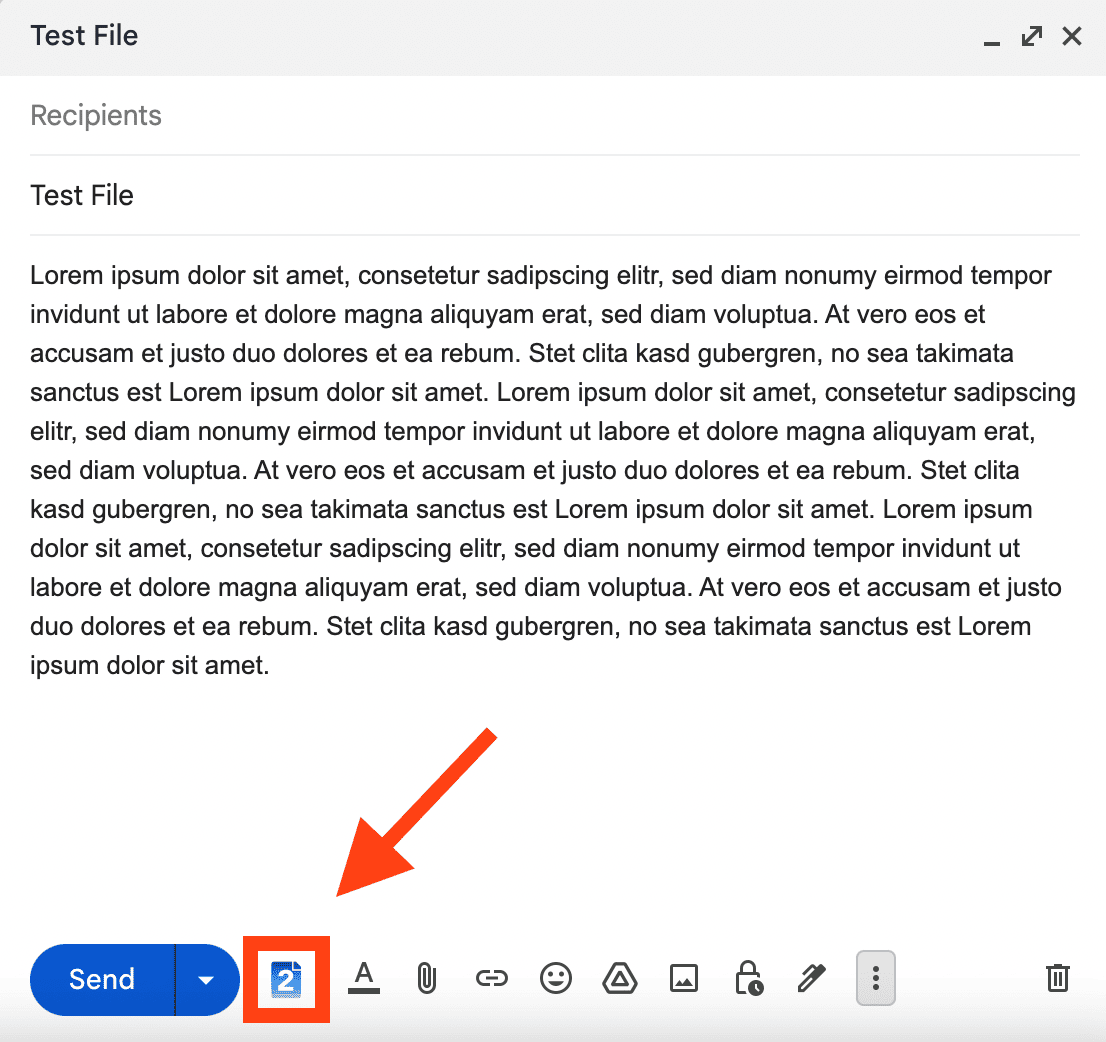 2. From the opened menu, choose one of the available conversion options. The file you pick will be automatically converted and added to your email.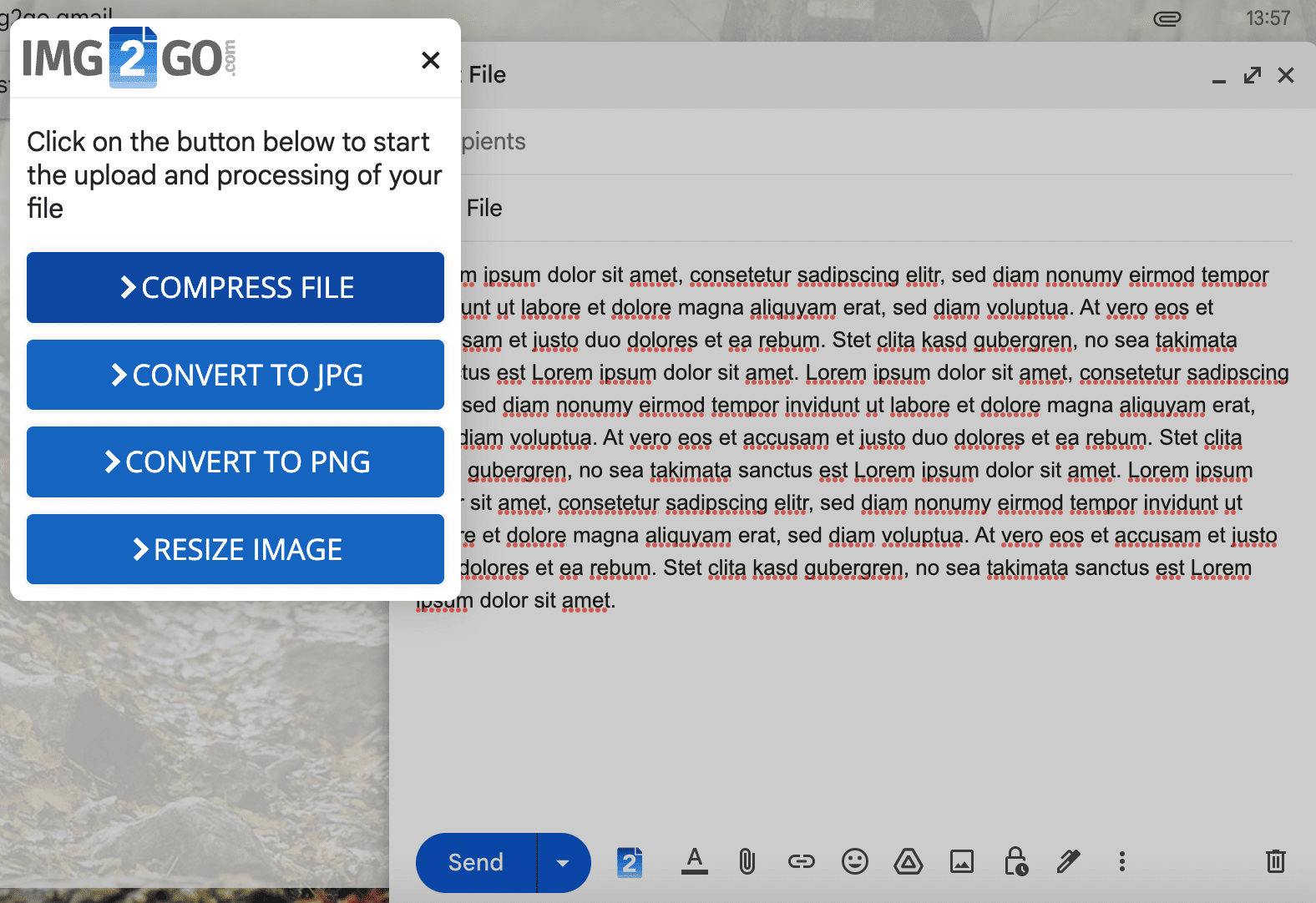 Much More Can Be Done
From now on, you can conveniently:
Turn a PDF or other documents into images
Add drawings, boxes, arrows, or texts to an image
Change the file size of a photo to upload it to social media
Rotate images that are upside-down or sideways
Extract text from an image (OCR)
Create a PowerPoint presentation from your photos
Convert RAW camera images
Turn a video into an animated GIF
Note: If you encounter issues with the conversion of local files when you first install the Img2Go extension:
make sure the local file access is enabled,
restart Chrome.
Have You Installed Our Extension Yet?
If you have not installed the Img2Go Chrome extension yet, visit the Google Chrome Store and try it out today!
Are you satisfied with the performed conversion? Let us know by reviewing Img2Go on the Chrome Store. We highly appreciate your feedback!