Free Online Photo Editor Tutorial
Img2Go and all our image editing tools are completely for free. This means that you can resize your image, rotate it, add a watermark, or turn it into another format such as JPG, PNG, SVG, and more without paying a single cent. We offer image converters and reliable editing, even on the go.
---
Step 1: Open the free online image editor
Img2Go offers a versatile and easy to use photo editor. Editing images and photos is quickly explained. Also, you do not have to download any program to your computer or app to your phone. All you need for the program to work is an internet connection, which makes it a perfect tool for using it on the go. And above all, it's completely free to use.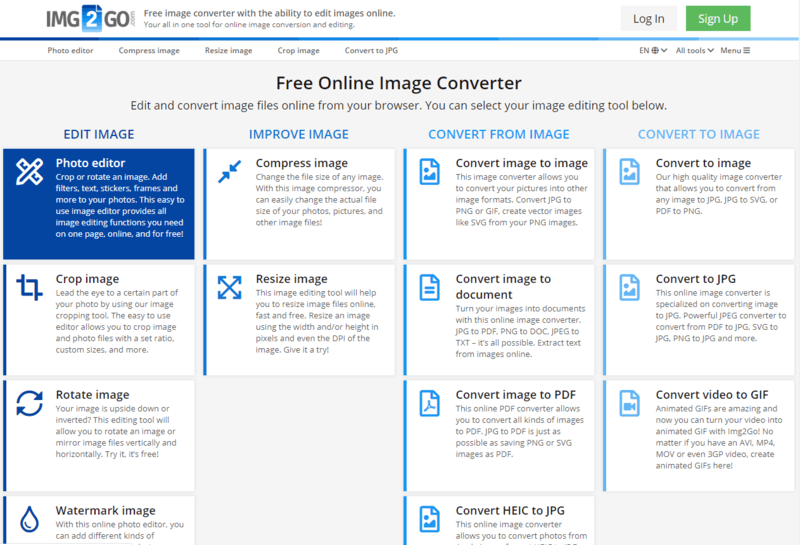 Step 2: Upload your photo
Upload the image you want to edit. You can do so in different ways, choosing whichever fits you best. Upload the image by dragging it into the upload box or using one of the buttons to upload from your computer, phone or a cloud storage.
You can also enter a link to edit an image from the internet. The photo editor will load after you did so. Please note that you can only upload one photo at the time to edit it.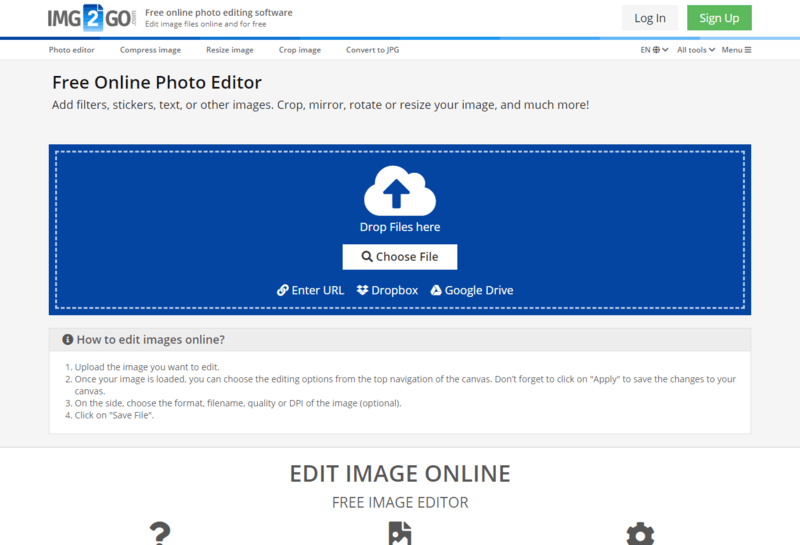 Step 3: Edit images fast and easily
Your image will be loaded in the photo editor and you can start editing. Right away, you will see the preview of your image where you can zoom in and out to edit in even more detail. The menu above the photo preview gives you a variety of image editing options such as:
Adding filters, resizing or cropping, adding drawings, text, shapes, stickers and frames, changing the background, and more. Some editing functions will give you further options like line width, color, font style and size, and the like.
Of course, all changes you will do will show up on your image preview.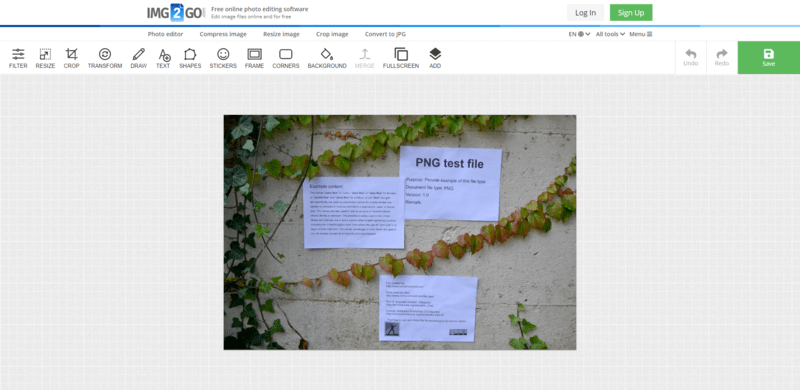 Step 4: Save your edited image
Click on the "Save" button to open a menu where you can determine which output format to use for your edited image, specify a name, and change the quality and DPI of the image. Click on "Save" one more time to finalize the image editing process.
On the download page, you can easily download your photo, upload it to Dropbox or Google Drive, or even further edit your file.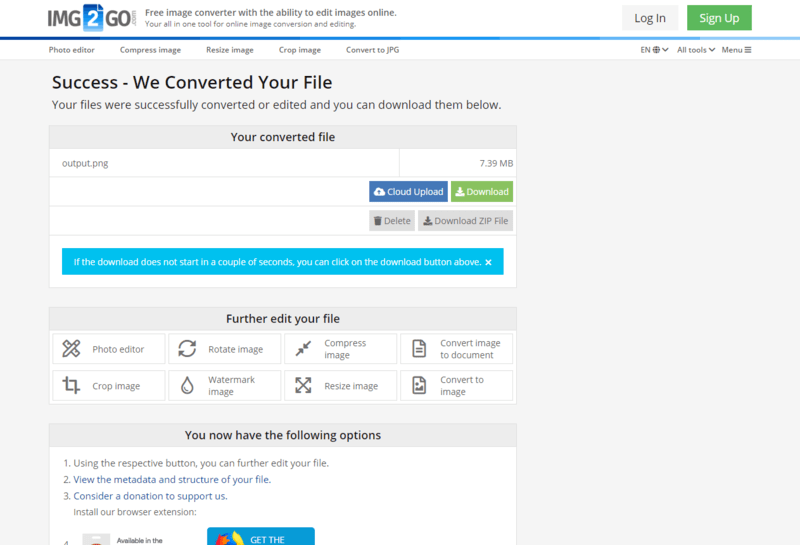 ---
Edit image online
Free image editor
How to edit photos online?
Easy: just use Img2Go's image editor! This is how you can edit photos and images online and completely for free.
First, upload your image from your phone or hard drive, a URL or a cloud storage. It will show up on the editing canvas next.
On the top, choose what you want to do with your image. Add text, shapes, filters, or rotate, resize, and crop your image. Don't forget to hit "Apply" afterwards.
Then, all you have to do is click on "Save File" and download your edited photo. You can even choose the format to save it in.
Edit image only
You can rotate, crop, add text and filters, resize, draw – but only image files. The photo editor will thus work with all common raster and vector images, but not with other files such as documents.
Once edited, you can also choose the file format you want to save your image in. For example after using the "corners" function, you can save as PNG to retain the transparency. These formats are available:
Image Formats:
BMP, EPS, GIF, HDR/EXR, ICO, JPG, PNG, SVG, TGA, TIFF, WBMP, WebP
All photo edit options
So, what can you do with this online image editor?
Transformations:
Resize images, crop parts of the image, mirror or rotate your photos. You can also add rounded corners to your image which stay transparent when saving as an image format that supports transparency (such as PNG or GIF).
Adding:
Add different filters, stickers, frames, and shapes to your image. Add text, draw on your image, and even add other images on top of your photo.
File safety is key
On Img2Go, you don't have to worry about the savety of your file. We take several measures to make sure that your files are safe.
We do not obtain any rights on your images and photos. All images are deleted automatically after 24 hours or 10 downloads, whichever comes first. Furthermore, no third-party will ever get access to your files.
Any questions? Check out our Privacy Policy for more.
Optional image settings
Even after you successfully edited your photo or image, you can still improve, enhance and change your image before saving it.
In the sidebar (which you can toggle on and off), you have additional image settings to your disposal. Choose the target image format and a filename if you want to change one of those. You can also determine the DPI of the saved image and, for JPG and PNG images, the quality.
Online image editor
The Img2Go photo editor is online. This means that you can edit image files from anywhere as long as you can connect to the internet.
The benefits of using an image editor online are plenty. Using your phone, tablet, desktop computer or a computer at work is no problem. Furthermore, you can edit images from commute, home, work, and even when you are on vacation.
Take your image editing anywhere!