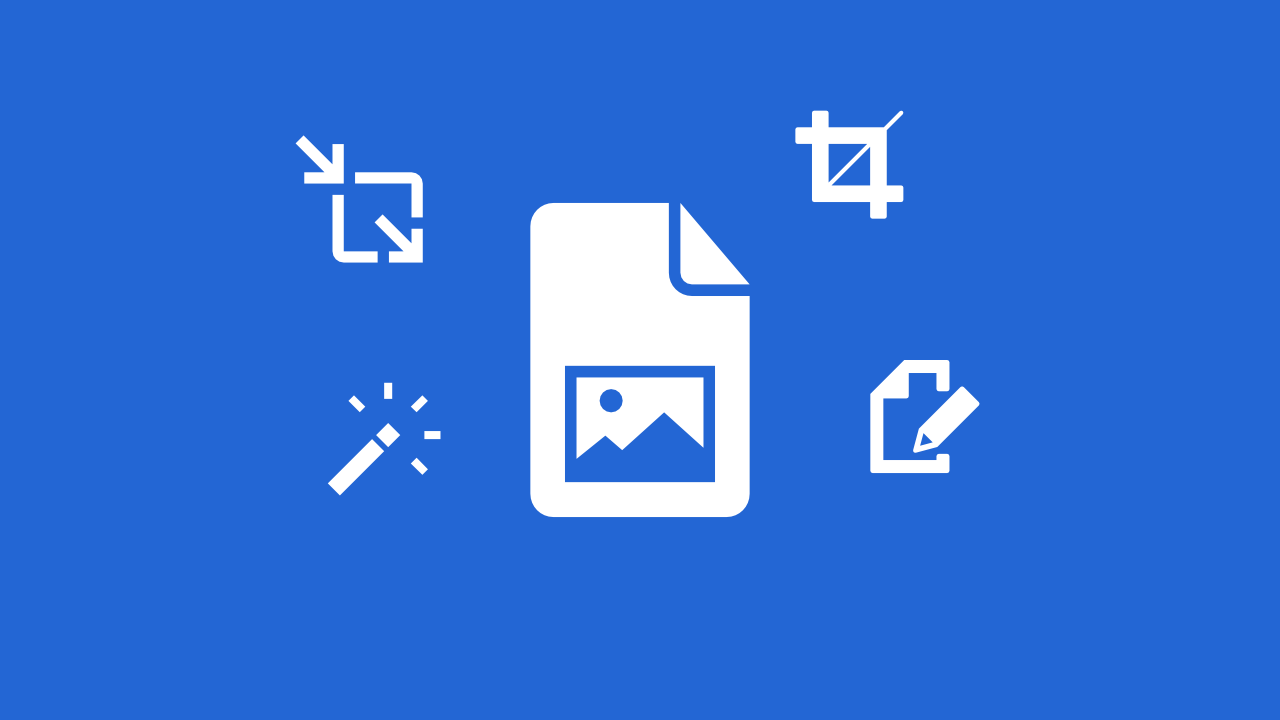 Are you looking for a quick and easy way to edit your photos online without the hassle of downloading software or installing apps? Img2Go's free online Photo Editor is the perfect solution for anyone looking for a way to edit their images because of its user-friendly interface and wide range of editing tools.
Whether you need to crop, resize, rotate, or add some text, shapes, and stickers to your images, this photo editor has got you covered! And the best part? You can do all of this straight from your browser. So, let's dive in and explore the capabilities of Img2Go's - Free Online Photo Editor.
Img2Go's Free Online Photo Editor: Key Features
This Free Online Photo Editor offers a wide range of editing tools.
Here are some of the key features:
Filters: Choose from 18 available filters to enhance the look and feel of your images.
Crop: Easily crop your images to remove unwanted areas and focus on the main subject.
Resize: Resize your images to fit specific dimensions or reduce the file size for faster uploading and sharing.
Transform: Rotate your images in any direction to get the perfect angle.
Draw: Draw freehand on your images to add your own personal touch.
Text: Add text to your images to convey a message, caption, or label.
Stickers: Add fun stickers to your images to make them lively and playful.
Shapes: Add various shapes such as rectangles, circles, and triangles to your images to highlight important areas or create designs.
Frame, corners, and background color: Add a frame, rounded corners, or change the background color of your images.
Additional image files: Add more files from your computer, Google Drive, or Dropbox or enter the URL.
Fullscreen: View your images in full-screen mode for a more immersive editing experience.
Img2Go's Photo Editor has all the features you need to achieve the desired results - whether you need to touch up a few imperfections, add some creative elements, or entirely transform your images.
How to Use Img2Go's Free Online Photo Editor
Using Img2Go's Photo Editor is simple and straightforward.
Here's how to get started:
Go to img2go.com and select the Photo Editor tool.
Upload your image by dragging and dropping it onto the designated area, or by selecting "Choose File" to browse and select an image from your computer. Uploading from Dropbox, Google Drive, or by entering the URL is also possible.
Once your image is uploaded, you can start editing it using the various tools and features available.
When you have made all the desired changes to your image, click on the "Save as" button on the right side of the screen. You can choose from 12 different image file formats, as well as a document format, PDF. Optionally, change the file name of your edited file, and adjust the quality and DPI (dots per inch) value of the image to your liking.
Click the "SAVE" button to download your edited image to your computer.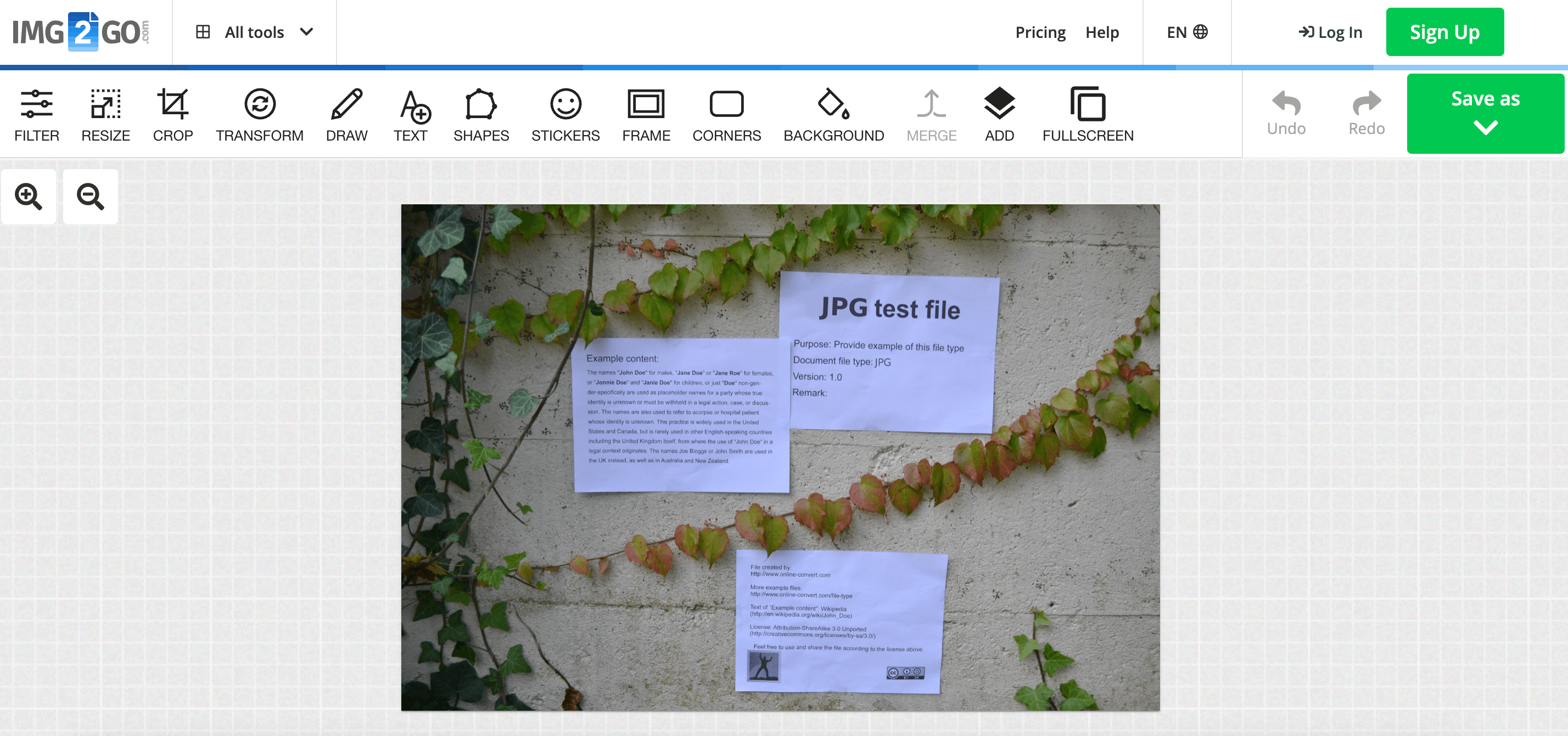 Optional settings like choosing the file format, file name, quality, and DPI make Img2Go's Photo Editor even more versatile and customizable, allowing you to achieve the best results possible.
Benefits of Using Img2Go's – Free Online Photo Editor
Ease of use: The tool's user-friendly interface and intuitive design make it easy for anyone to edit and enhance their images with ease, regardless of their level of expertise.
Flexibility: Photo Editor offers a wide range of features allowing you to customize your images according to your specific needs and preferences.
Accessibility: Since the tool is web-based, you can access and use it from any device with an internet connection, without the need to download any software or apps.
Fast and convenient: With Img2Go's Photo Editor, you can edit and enhance your images quickly and easily, saving you time and effort.
Multiple image file formats: It supports various image file formats, allowing you to save your images in the image format of your choice.
Free to use: The Photo Editor tool is free for casual users, making it a cost-effective solution for anyone looking to edit their images online.
Conclusion
With its ease of use and accessibility, Img2Go's Online Photo Editor is a great option for anyone looking to edit their images quickly and easily straight from their browser.
Try out this photo editor today! Discover for yourself how easy and effective it is to create stunning images using this simple, yet powerful tool.
Img2Go - Chrome Browser Extension
Img2Go also offers a Chrome browser extension that provides additional convenience for users. It adds an icon to the extension toolbar, letting you access all the tools without the need to visit the website.
The extension allows for lossless image compression and image conversion, making it easy to compress images or convert them to another format. It also offers advanced features such as extracting text from an image (OCR), creating a PowerPoint presentation from your photos, converting RAW camera images, turning a video into an animated GIF, and much more.
The integration with Gmail is also available, making it easy to compress and convert your files directly from Gmail while composing your message.
The Img2Go's Chrome browser extension is a valuable tool for anyone who frequently works with images and needs quick access to image editing and conversion tools.